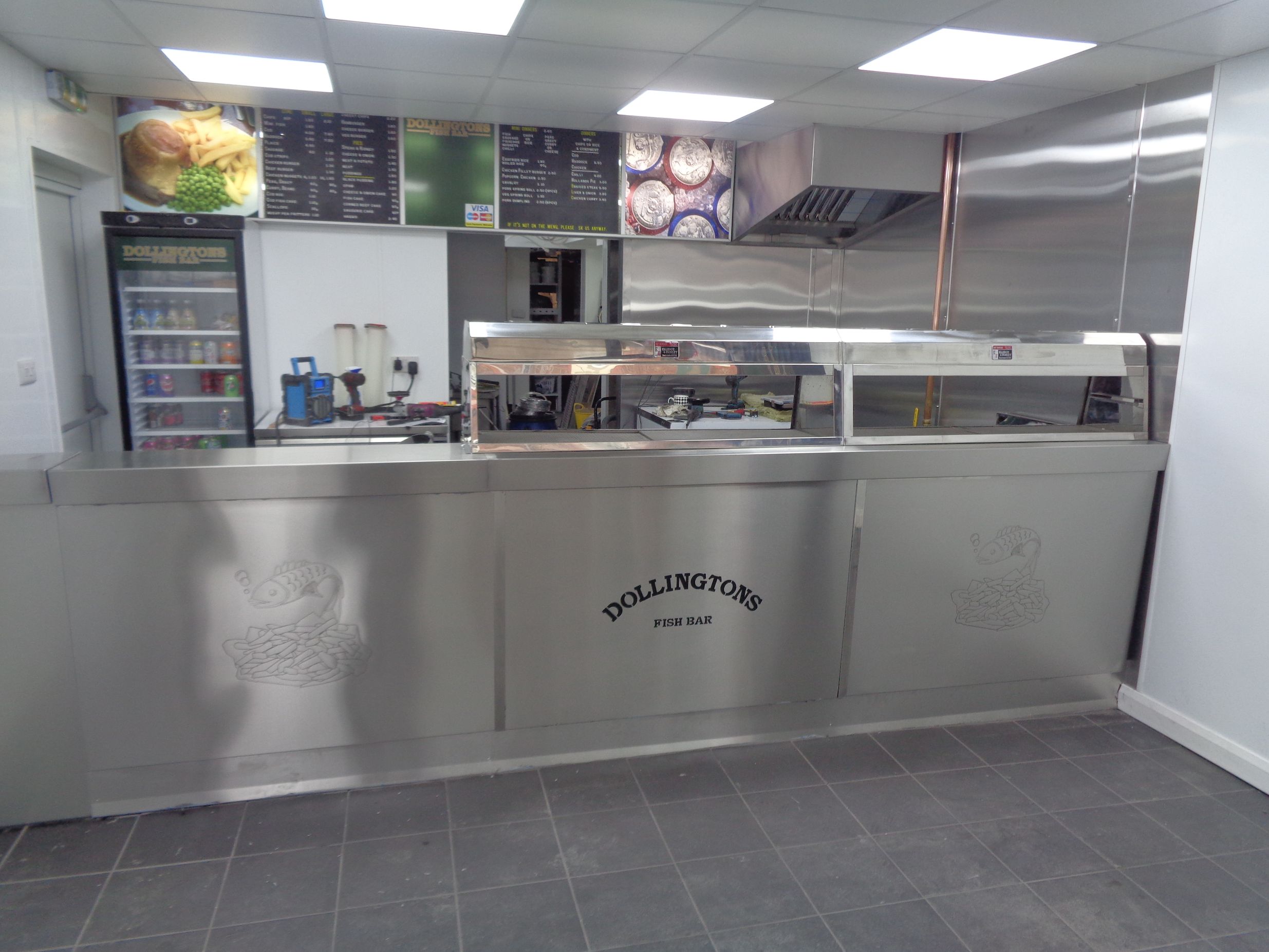 25/05/2020 by Canary Gas
Dollingtons Fish Bar Warrington
Re-furbished Fish Frying Range in Warrington
In 2019 Iain Millington, of Dollingtons Fish Bar in Warrington, called on Canary Gas to re-fit his chip shop and re-furbish his frying range. As we had serviced his fish frying range for the past 2 years he was more than confident that we could do the job for him.
The first job on the list was to remove the existing range which was a little out dated and in need of some TLC. We took the frying range to our workshop where we completely dismantled it and gave it a thorough de-greasing. Next, we had all the steel framework shot-blasted to give the best possible finish so that we could repaint it and make it look like new.
Time had taken its toll on the stainless-steel and it had become dull and scratched over the years. We de-greased it and polished it back to a nice shining surface.
All the electrics on the range had to be upgraded to meet with current Safety Standards. The range was, originally, manually operated but, as we had removed it and were now re-installing it, it has to be fully automatic so that each pan now has an automatic ignition and a Gas Safety Interlock fitted.
We changed all the frontage of the range and fabricated new stainless-steel counter tops - for a more durable and pleasing look. The front panels were upgraded to incorporate a back-lit feature in the centre; with the name of the shop illuminated and the left & right panels laser-etched to Iain's prefered design.

After the range had been removed we set about stripping out the entire interior of the shop, leaving us a blank canvas to work with. Canary Gas designed the new interior to be practical, clean and aesthetically pleasing. Iain gave us his ideas on what he wanted and we made it a reality. It took 3 months to complete our work but, at the same time, Iain was having a new extension built onto the living accomodation to the rear of the shop! Quite an undertaking.
Feed